This summer has been filled with a myriad of cultural attractions, and one particularly exciting highlight was the release of a movie that offered a truly unique viewer experience.
Marvel has been captivating superhero fans for generations, and this year, they treated us to a sequel that felt refreshingly novel. "SPIDER-MAN: ACROSS THE SPIDER-VERSE" presented a new direction for the Marvel brand.
While this is the second film in the "SPIDER-VERSE" series, featuring Miles Morales as Spider-Man, it felt remarkably distinct from other Marvel movies. Two key components set it apart: the animation format chosen and the fact that Miles is a black superhero. Both elements are relatively new for the Marvel team, bringing a fresh tone to the screen. The movie's marketing recognized the opportunity to connect with the urban and hip-hop market.
Enter Metro Boomin..
Miles' character was complemented by a soundtrack that perfectly embodied the spirit of this new SPIDER-VERSE. The highly regarded and relatively young music producer, Metro Boomin, was tasked with creating a sound for Miles and the new version of Spider-Man. Though it might not seem like a big deal, it truly is. The entire movie and its packaging exude hip-hop vibes.
The film and its soundtrack served as a platform that seamlessly blurred demographic lines. Miles, a black Hispanic teen from New York, brought a captivating energy to the screen. Metro Boomin curated an eclectic group of artists, blending Hip-hop, Afrobeats, reggaeton, and pop into a brilliant album. Listening to the soundtrack, you get a sense of traversing different worlds, as it's hard to pinpoint a single genre. The album feels fresh and timeless, appealing to audiences of all ages.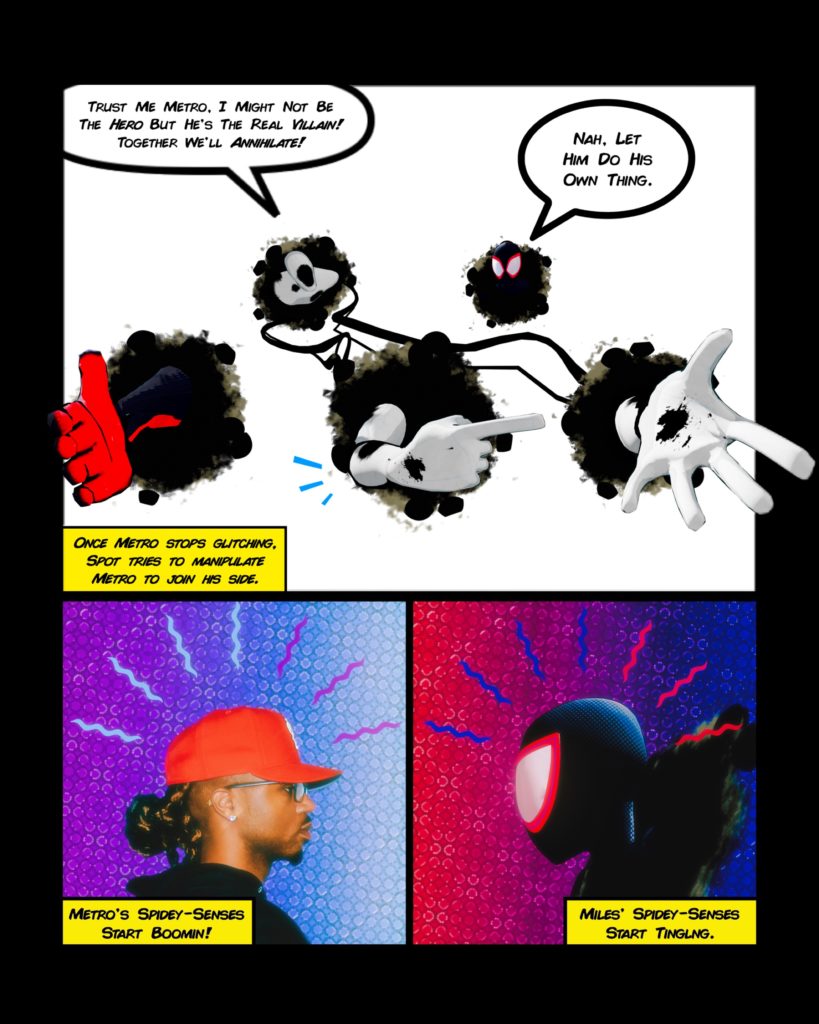 It makes you contemplate the direction of American culture as a whole. Hip-hop has undeniably dominated the charts for the past couple of decades, but witnessing its influence in the world of film is truly exhilarating. We've had the POWER dynasty that 50 Cent created through STARS, marking a new turning point for Hip-hop and entertainment. However, a young Black superhero's impact feels even more profound. While the Black Panther films hinted at Marvel's awareness of their audience's diversity, these Spider-Man movies further emphasize how dominant Hip-hop has become.
The soundtrack mainly features Hip-hop artists in their mid-20s. In contrast to Miles, who is 14, the music bridges the gap to connect with an older audience, making the movie even more appealing and offering a fresh experience, unlike anything previously released.
It truly feels like a new era is being ushered in—one that is more free, relaxed, and expressive. "SPIDER-MAN: ACROSS THE SPIDER-VERSE" was an exhilarating thrill that's definitely worth experiencing. Kudos to Metro Boomin for providing a timeless album that all ages and demographics can enjoy. If you haven't yet, we highly suggest you tune in and immerse yourself in the SPIDEY-VERSE and all its cultural richness!
Photos provided by @shotby_daniel 📸 📷